"Computer Connection" episodes (1987)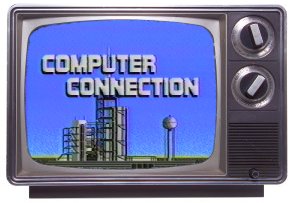 "Computer Connection" is a TV show that was put together by the Pleasantville Commodore Users Group (P.C.U.G.) in St. John's, Newfoundland in late 1987 and aired on Atlantic Cablevision Channel 9. The following are the six half-hour-long episodes that I have on VHS tape. I'm not sure if this is all of them or if I'm missing some. If you know I'm missing some, please let me know! (Alas, I know there was one episode we did that never even aired.) These episodes aren't likely to be in order of actual airdate, and are of varying quality. But hey, at least I have them!

Each of the videos can be downloaded as a low-quality AVI (360x270 DivX) or as a medium-quality AVI (512x384 DivX). I also have high-quality DVD-Video copies available as well (encoded at a very high bitrate, two episodes per disc), but I'm not putting them online because they'd take WAY too long to download. However, I'd be more than happy to send a copy of the DVDs (free of charge!) to anybody who's interested. Just send me (pomakis@pobox.com) your snail-mail address and I'll ship them off to you ASAP.
---
Segments
Hooking up a Commodore 128 (with Sean Huxter)
Flight Simulator II on the Amiga (with Ed Reddy)
Deluxe Paint on the Amiga (with Sean Huxter)


Download low-quality AVI (115MB)
Download medium-quality AVI (440MB)

---
Segments
Music Shop on the Commodore 64 (with John Huxter & Sean Huxter)
Gauntlet on the Commodore 64 (with Craig Stacey)
Elite on the Commodore 64 (with John Huxter)


Download low-quality AVI (93MB)
Download medium-quality AVI (345MB)

---
Segments
Input Devices (with Sean Huxter)
Doodle on the Commodore 64 (with Keith Pomakis & Craig Stacey)
Drawing on the Amiga (with John Russell)
Amiga Filler


Download low-quality AVI (105MB)
Download medium-quality AVI (404MB)

---
Segments
GEOS on the Commodore 64 (with Sean Huxter & John Huxter)
FontMaster II on the Commodore 64 (with Michael Sullivan)


Download low-quality AVI (106MB)
Download medium-quality AVI (408MB)

---
Segments
Final Cartridge on the Commodore 64 (with John Palfrey & Sean Huxter)
DigiView on the Amiga (with Ron Martin & John Russell)


Download low-quality AVI (90MB)
Download medium-quality AVI (349MB)

---
Segments
Purpose Of The Show (with Sean Huxter)
Deluxe Video Demo on the Amiga
Marble Madness on the Amiga (with Keith Pomakis & Ed Reddy)
Drawing on the Amiga (with Sean Huxter)


Download low-quality AVI (85MB)
Download medium-quality AVI (324MB)

---